Marbleous!
Read
here
about the newest adventure of our "novice", his experiences and thoughts!
Level of the Month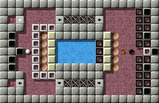 Contribution
Writing Levels, Translation, Bug Reports, Application Coding.
We need your help. See
Development
.
Enigma is a puzzle game inspired by Oxyd on the Atari ST and Rock'n'Roll on the Amiga. The object of the game is to find uncover pairs of identically colored Oxyd stones. Simple? Yes. Easy? Certainly not! Hidden traps, vast mazes, laser beams, and, most of all, countless hairy puzzles usually block your direct way to the Oxyd stones … If you are new to Enigma, you may want to take a look at a few screenshots or peek at the user manual.
Enigma is available for Windows, Mac OS X, and most flavors of Linux and other modern Unices.
Enigma is free software and may be distributed and modified under the terms of the General Public License.
Recent News
March 29 2014:

The Score Evaluation Is Back.

NEW!

After a longer break we can offer again a score evaluation. In the beginning of Mai 2014 we'll provide up-to-date statistics and a new ratings file on the enigma homepage.

Unfortunately we have no access to scores submitted in the past therefore we have to start from scratch.

Send your score file "enigma.score" with subject "score - your username" to enigma.score@go4more.de. For detailed information about score transmission check the page "Score Submit".
Please note that the formerly used mail address is now invalid!

Your Enigma Team
April 2 2013:

Enigma 1.20 Released

We are pleased to announce the release of Enigma 1.20 for Windows and Linux, not yet 6 years since our last stable release. Enigma 1.20 comprises:
305 new Enigma levels, 95 new Pentomino levels, and 1077 imported Sokoballs,
a new API, involving a reengineering of many objects, a consistent naming scheme for all objects, and a rewrite of almost every level,
a vast number of new objects, like wires, barriers, and yinyang-stones,
many improved images for higher resolutions, including new coins,
level music (go to options menu to activate it),
and many improvements and bug fixes.
You can find Enigma 1.20 for Windows and Linux in our download section. Unfortunately, we cannot yet offer a version for OS X, this will be our next goal.

Our thanks go to our team of developers and all our level authors, to Clifford Tasner for the new music, to Nobby and Thomas for their great levels, feedback, level organisation, the Enigma movies, and for always pressing us to finally release version 1.20. However, there would be rather a 1.02 than a 1.20, wasn't it for the work of a single man, who, single-handedly, invented and realized the new API, the face of Enigma as it is today: Ronald Lamprecht's commitment to Enigma cannot be appreciated high enough. We hope to have him back soon, and, until then, that we can live up to his visions for this wonderful game.
Have fun!
Raoul Bourquin and Andreas Lochmann
Nov 28 2010:

Enigma Advent calendar

This year we proudly present the first Enigma Advent calendar with 24 new – previously unreleased – levels. According to a correct Advent calendar we'll open on time at 1st december the first door. Behind it the first level is hidden. Day by day another level is waiting to no longer hold out living behind a closed door.

This way to try it out Enigma Advent calendar
Dec 24 2009:

Magic Moments of Enigma

After a first Enigma 1.01 trailer earlier this year we are proud to announce another breathtaking movie. Enjoy watching record holders mastering levels in a magic manner. We collected all movies on a new movie clips page that lets you download and view the clips. The page link has been added to the left menu in the first section, too.
May 25 2007:

Enigma 1.01 Released

Enigma 1.01 is a bug fix and level addition release with some small feature additions. Thanks for all the feedback that has driven this release. The list of fixes and improvements includes:
60++ new level (now more than 1000 in total)
added easy mode to some existing levels
fixes of all levels with known shortcuts
Finnish translation, French and Russian 1.0 manuals
support of updatable cross internet level packs
sound damping for noisy levels
Windows installer reengineering to modern NSI
many smaller enhancements
With 1.01 you can rate updated levels with another rating than the prior release that may have been shortcutable. Please continue to send us your feedback by sending back your score file as described in Score Registration
As usual the new release is available from the download page (Mac OS X available!).
Have fun!
All news
Further news can be read on our news archive page.