Level of the Month
Each month, we take a closer look at excellent Enigma levels. Excellent levels are those with the highest average user ratings and the greatest number of ratings altogether. Thus it is your vote that determines the Level of the Month. So please rate the levels you play and do not forget to submit your ratings together with your scores at the end of each month. You can find all previous Levels of the Month in our archive.
September 2008:

"River of Challenges" by Lukas Schüller

Summertime is vacation season. Well, marbles, do they go on vacation too? And if they do, what are they doing then? Lazying about and enjoying themselves? Or do they prefer activity vacations? Questions and more questions. Thank God, Lukas Schüller searched for answers. And with "River of Challenges" he allows us to have a look at his findings.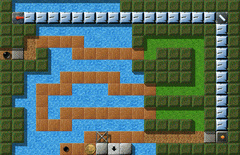 Enigma VI # 61
Some records of August 2008

| | |
| --- | --- |
| 9:35 | Lukas |
| 11:47 | Moneymaker |
| 11:49 | daydreamer |
| 12:39 | Duffy |
| 13:39 | dev0 |
| 13:41 | Raoul |
| 14:20 | ryujun |
| 14:42 | Craven |
| 17:56 | Taztunes |
| 18:08 | Ronald |
| 21:09 | Ale |
| 32:41 | Alex |
Easy Mode

| | |
| --- | --- |
| 10:56 | Moneymaker |
| 11:25 | Craven |
| 11:58 | daydreamer |
| 13:32 | dev0 |
| 17:21 | ryujun |
| 20:14 | Taztunes |
| 20:37 | Ronald |
| 33:00 | mecke |
Actually our marble wanted to go mountain climbing, but the weather forecast in the mountains thwarted his plans. Go to the sea? Well, being a non-swimmer (one would not think so, but it's true!) that wouldn't really be a marbleous adventure! And eventually just hanging around in some anonymous tourist trap? Boring! So what else? The ancient ones used to seek advice from the "Gods of Enigma" or an "Oracle" to help them out of difficulties, when they lacked ideas. Not much has changed: Even nowadays asking and listening won't do any harm.
After looking around for a while, our marble found a small interesting location in the south — well-known just to insiders who praised it with wide eyes as a "real cool place". So, it was easy what to decide. "South" in the summer means warm and sunny weather, and "well-known just to insiders" means a natural place with no hustle and bustle. At last, we've settled on our vacation spot!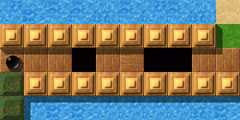 Unpassable bridge
Upon reaching our destination, the first thing we have to do is sound things out. From afar we can see the river, which according to some locals we meet is suitable for white-water rafting and kayaking. So let's go and check out if their enthusiasm is merited. Wow! These folks are totally crazy. Boating in these muddy waters would surely be suicide. Branches thick as one's arm, even trunks are shooting past. Let's go across the bridge to have a look at the other side — perhaps it's more quiet over there. Oops! No way to cross this bridge! It seems like the river has been flooded recently, the bridge is damaged. That also must be the reason for all the mud and sludge around.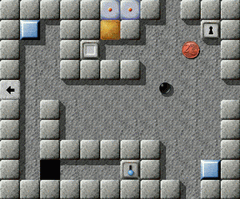 The village
First we will search for informations in the nearby village about what happened and when the repairs will be done. But the information we get there doesn't encourage us: The repairs will drag on for days, even weeks. "Come again next year" they tell us, "or content yourself with what our village has to offer". At least they inform us of three persons who probably can help us. But two of them are very busy at the moment, and the way to the third one is more than just adventurous. Disheartened spirits would pack their bags and go home. But we wanted an activity vacation, so we take up the challenge.
For today, to limber up, we decide to examine the bridge to the south east of the village. Contrary to all expectations it can be repaired without too much fuss. So the way to two hot spots is now free. We'll leave it at that, it's enough for today. We don't want to shoot all our arrows at once. Tomorrow is another day.
Don't miss the "bus"!
In January of 1995, I was exploring the lost city of Petra, in Jordan. My companion and I took a wrong turn and found ourselves following a river that led out of the site toward the wilderness. We were no longer surrounded by columns carved into living stone by ancient human hands, but by nature itself.
We hiked up the river until we came to a rope bridge across. We realized that our bus would be leaving soon and we were quite a distance away and not sure if we would get to the bus, the final one of the day, on time. We had to cross this precarious rope bridge carefully, so as not to fall into the water, and quickly, so as not to miss the bus.
Missed the bus.
This is the memory that playing "River of Challenges" triggers in me. Like many Enigma levels, there's one crucial task that must be mastered initially if one is to continue playing. For this level, it's the necessarily rapid, but careful crossing one must make to stop the laser that is approaching the boulder. If you miss the bus, you just have to restart the game and try again.
For me, the greatest challenge isn't the mad dash across the drink that I allude to above, but the jumping one must do to reach the switch in the lower left room — it is so hard for me to get just the right amount of speed going before I bounce across the rivulets. I usually find myself taking a mighty leap and hoping to just hit the switch before I bounce into the water and lose one life.
I really like this level — it's visually sumptuous. The tasks that must be mastered vary — there's the right balance of dexterity and forethought required to succeed. I give "River Of Challenges" a 10.
The next day we set out to pay a visit to those three people who might help us. The first one we see seems to need help himself. Having his leg in plaster, B.B. Marble suggests a deal. Before his accident he had lost something important, that's why he sings the blues. He can't fetch it himself because of his limited ability to move. If we can get it for him he would of course show his gratitude. We agree and shake hands on the deal. He explains to us where we have to go and what lies ahead of us there. "You'd better hurry!", he says.
So we hurry. We get into our sportswear and out of the village to the east. There's no "Slippery when wet" sign, but at the beginning we're more slipping and sliding along the muddy path than walking (hoping not to waste too much time). But soon we can — no, we MUST — force the pace along the tortuous plank path. Careful! One false step would surely mean the end (aka Ctrl-A). Concentrate and keep up the pace! Phew! We've only just made it! First we need a breather, and then we return the lost article to its owner. And like he had promised (manus manum lavat) B.B. pulls a few strings, Lucille sings "You're still a square, but a fl-bridge-closed now" — and we've made another considerable step forward. Let's knock off business for today.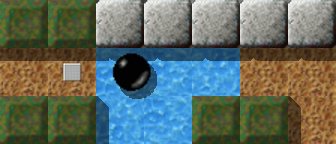 "Swinging" cross the pool
The following morning we go to see the next person who might be able to help us get along. Big Bill Marble would like to come to play, but to do so he needs his key to the highway which he had lost when rock'n'rolling in a cave to the west of the village recently. Great! At least this cave is located on the way to the third person who has been mentioned to us as a address to turn to for help. As a precaution we fit ourselves out with appropriate equipment for spelunking. We leave the village, taking the road west, then turning off south at the next crossing. It's pure joy sliding down the crossroad. Well, but then suddenly we're stuck: the way is blocked by a pool. We need a good swing to jump across. Let's hope we don't lose control on the other side because of all the mud. Let's get going then! … Phew, that was close!
And on we go. Soon we reach the cave, force our way in and take the fateful key. South of the cave we move west to look for the third person on our list. We come across two creeks which obstruct progress. But skilled as we are, with the right mix of speed and dexterity — we overcome even this obstacle. "I'sorry, but I just can't help you, much as I should like to" is all we get from Little Walter Marble at first. "Try to ask around in the pub this evening. The pub is to the south of the marketplace at the end of the side road. Tell them I sent you. Everything's gonna be alright." Taking this not very promising advice we head for home to the village.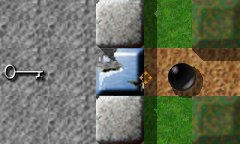 The Cave: Big Bill's lost key
We would have gone to a pub anyway this evening. Why not pay a visit to this location? No sooner said than done. Our questions are being put off until later: The person who might help us hasn't arrived yet. We make ourselves at home. And we soon make friends with the pleasent vin du pays, the meals are tasty and the atmosphere's enjoyable. Even waiting can be fun. After a while the expected guy shows up and soon joins us. He asks us what we want from him, and we tell him about our problems. After some (or perhaps some more) glasses of wine, John Lee Marble assures us of his support, and moreover gives us some helpful tips.
And then …
"The frustration factor of 'River of Challenges' is comparatively low"
"River of Challenges" is nice to first-time "visitors", because you can take a look at every part of the level before really starting to do anything. Also, there's no given order in which to tackle the different "challenges" which makes this level worth a try even for less experienced players. However, if you want to actually finish this level, you need skill in moving the ball as well as a bit of logic, so as not to make mistakes during the pushing puzzles.
Fortunately, one of the most critical passages, namely the race against the laser beam, can be dealt with right at the beginning, so that the frustration factor of "River of Challenges" is comparatively low. It takes no mastermind to solve the puzzles either, except for two "booby traps", which cost me quite some time:
1) Where can I get more dynamite, in order to blow up the stones blocking the room with the key?
2) Why do I get stuck, when I build a bridge across the upper part of the "river"? (It did work in the lower right corner!)
Eventually you reach a point (hopefully), at which you can (at least in theory) manage every part of the level separately. Then it's only a matter of time …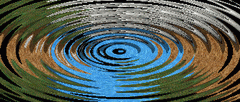 Damn it! Why is the light so glaring and why are our heads so heavy this morning? Oh yeah, yesterday late in the evening — or was it today early in the morning? — the conference seems to have lasted a little bit longer. According to our status quo it seems to be — no, it has to be — just a few hours ago since the festival came to an end. Well, it doesn't matter. Let's have a day off today. — Wait a minute! Isn't there something we're forgetting? If only we didn't feel so lousy. Apparently we had one Bourbon, one Scotch, one Beer, or was it something else? Serves us right to suffer! — But what was it? — Actually today we wanted to?? … bridge?!? … hot spot just northeast of the village!?! … That's it!! But should we really do this to ourselves today? Since these nice people have so generously supported us, we can't very well disappoint them. We hope it won't be too hard. One pot of coffee later, but not yet fit as a fiddle, we unhurriedly set off to the scene of today's action.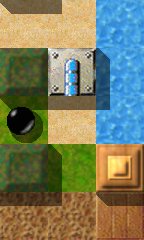 What shall we do
with the stuff from the river?
… early in the mornin' …
Great! The northern bridge is passable again. Aside from the muddy path the other side doesn't look bad. But stop! What's that? Everything's flooded just before our goal! — Didn't tell John Lee, yesterday's drinking buddy, that there's enough stuff lying around on the waterfront we can make use of without any problems? Surely, when we arrived a few days ago we almost stumbled over it. And there's one good thing about it: Hopefully the drudgery lying ahead of us will break down the residual alcohol. A little bit later after we've moved the first piece to the left riverside, a little problem turns up: How can we get it across the river? We push it to and drag it from but it won't work. Think a little! But that's not so easy, our heads are still aching. Hm, if we however … then … and with … Yes, we should succeed doing it this way.
And in fact — finally we've reached our final goal. The strain eases. The last exhausting days are past. What remains is the satisfaction to have survived all the challenges of the river. We will certainly brag about it later at a certain inn while everyone is celebrating with food and drink. But we don't want to say a word about the consequences this time …
"One kind of level was missing from my private level collection"
I'm very happy about this award. It's a while ago since I wrote the level, but I'll try to get things together.
Now that "River of Challenges" has been voted Level of the Month, things have come full circle in some respect: Since the idea for this level came into being shortly after I had read the first LotM article, which presented one of Duffy's masterpieces (on which I never really dared to venture I must confess). Thereby I came to realize that it was exactly this kind of level which was missing from my somewhat extensive private collection of levels (although not so extensive as the one of the author just mentioned before — if there's anything alike it at all ;) ): A huge level, consisting of lots of little puzzles, in which all the skills typical for Enigma are demanded from the player.
The idea to assemble some puzzle-stones for transporting purposes and to disassemble them again at their destination had occured to me some time before, so building the upper two rooms didn't take that long. Luckily this puzzle made it possible for me to outline a basic plan regarding the gaming principle as well as the design. The way to the other side simply was interrupted at some points and had to be reestablished by various actions of the player in the lower part of the level. As the main designing element water was the perfect match: it could easily be extended to represent a river.
Then I had to complete the lower area of the level with various challenges. My original intention was to design the level in a non-linear way — each of the single challenges should be within easy reach right from the start for practising purposes, but still there would only be one order, in which the individual challenges could be mastered. Well, it didn't quite well work out: most of the puzzles are independent of other ones. Particularly the passage with the laser and the breakable stones reveals the original idea. And also the fact that it's still me who holds the record indicates that there's only one optimum way (concerning time) to solve the level.
After I had finished a first version and sent it to the developers, the level was yet far from being finished. Here once again many thanks to Raoul, Ronald und Andreas, who especially helped me to complete the left area of the level which has been nearly empty at the times. After many more minor changes the level was finally completed and ready to be included in the game.
Looking back there are some aspects I'm discontented with: the central challenge isn't centrally located for instance, or the fact that it has turned out to be a bit too time-consuming — but on the whole I'm quite pleased with my first and up to now only large level. But who knows, maybe in future others will follow.
It can be taken for granted our marble has to recover from such "vacations" by going about its business as an industrial manager (far from nature). Without dreaming that it will come across some of that "stuff" it had found near the riverbank again, when it will be facing the challenges at its working place at factory hall VI/98. More about it next month. Thanks to Lukas Schüller. He gave us a profound insight how our marble is spending its vacation and why our marble sometimes seems to be so worn-out for its daily work.
NObby And Harry
One more time many thanks to our travel companion Taztunes who picked up the pieces of our double Dutch English and put them together into something worth reading.
Dear reader, we have a constant need for articles from you about Enigma's great levels. Please, send us any articles, even comments, you write to:

enigma-devel@nongnu.org

We're particularly interested in articles about the following levels:
"Plan Ahead" by Jacob Scott
"Procrustes" by Andreas Lochmann
"Little Puzzles" by Jon 'WB' Sneyers
Many thanks in advance, only your help can keep the LotM alive!
Your Enigma Team